Rail Trail Passport $12.50
Rail Trail Passports are a great little souvenier where you stamp your Passport at eash Station Site along the Rail Trail. Each stamp is located in a red-painted replica of a NZ Railways Department emergency phonebox.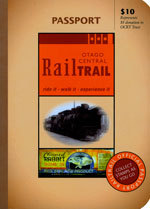 The proceeds from each Otago Rail Trail Passport contributes to the ongoing development and enhancement of the Rail Trail.