Discover NZ's best cycle trail, on the most comfortable and reliable hire bike available on the Rail Trail
Cycle Surgery Rail Trail Limited as selected as a finalist for the Tourism Award in the Westpac Otago Chamber of Commerce Business Awards. Winners will be announced on Thursday 6 November at the Awards Ceremony at The Dunedin Town Hall.
Cycle Surgery New Generation Hire Bike - $35.00 per day
Welcome to Cycle Surgery - The Otago Central Rail Trail Specialists!
We have been providing bike hire on the Otago Central Rail Trail since it's inception in 2000. We love bikes, we love cycling and we love Central Otago. We want to share our passion with you.
"Our goal is to provide the ultimate cycling experience in New Zealand".
The Otago Central Rail Trail is 150km of cycling fun, spectacular scenery and rich New Zealand history. Whether you are looking for a romantic getaway, a family holiday or a fun and rewarding trip among friends, Cycle Surgery can cater for your every need.
Bike Hire
Luggage Transfers
Shuttle Transfers
Tour Itineraries
Choose from one of our themed tours or enquire now and we will custom-design a rail trail itinerary to suit you.
Cycle Surgery is a friendly, family owned business. Pip is a born and bred Middlemarch girl with a background in farming and teaching. Pip is extremely well organised and excellent at planning itineraries and making sure everything runs smoothly at Cycle Surgery. Pip's husband, Dave lives and breathes cycling. He has represented NZ in cycling and been involved in the cycling industry for over 25 years. Dave is the man behind the bikes. Dave's passion for cycling and innovation in bike design ensures Cycle Surgery is the market leader in Rail Trail Bike Hire. Dave is in charge of designing and maintaining our Cycle Surgery fleet of hire bikes.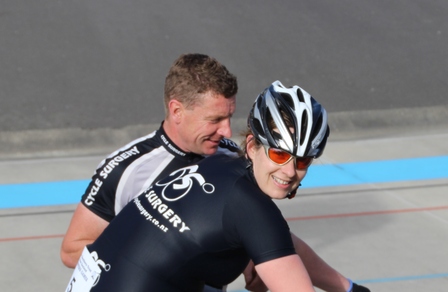 Masters Games Dunedin 2014. Pip on the track being held by Dave.
As a family we are passionate about cycling and committed to providing our clients with the best cycling experience in New Zealand.
Book Online Now Package Enquiry