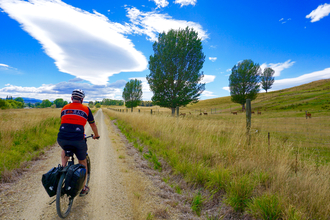 Though the weather on the Otago Central Rail Trail is most often dry and sunny, it's good practice to be prepared for all weather conditions at all times. New Zealand band Crowded House were right in saying that New Zealand offers four seasons in one day!
*Remember that New Zealand's sun is very strong. Be sure to wear and carry plenty of sunscreen, regardless of the season.
Spring: late September, October and early November

The weather during spring is often quite changeable. Spring days can be filled with fine,sunny weather and then a sudden change can bring winds, showersand even the occasional snowfall. Temperatures range from -3 to 20 degrees Celcius.

Summer: late November, December, January, February and early March

In summer, daytime temperatures can reach the mid 30's, however as it's mostly a dry heat,

cycling the Otago Central Rail Trail is still comfortable. You'll also delight in long daylight

hours. Expect cooler nights with temperatures dropping to the low teens at times.

Autumn: early March, April and May

The colourful leaves in the orchards and vineyards are enjoyed on crisp, warm, and calm

autumn days in Central Otago. Temperatures can reach the mid-twenties, but drop to just below zero Celcius at night, so expect frosty mornings.

Winter: June, July, August and early September

Though winter days in Central Otago are often frosty and cold, the Otago Central Rail Trail is still cyclable. Please note that from mid-May to mid-September many providers on the Rail Trail close for the winter. There are no daily shuttles running, limited accommodation and many cafes close for the winter. If you are cycling over the Rail Trail, please make sure you are planned well in advance and aware of providers who are open and closed.